HIGH PRESSURE FOGGING SYSTEM MANUFACTURER IN INDIA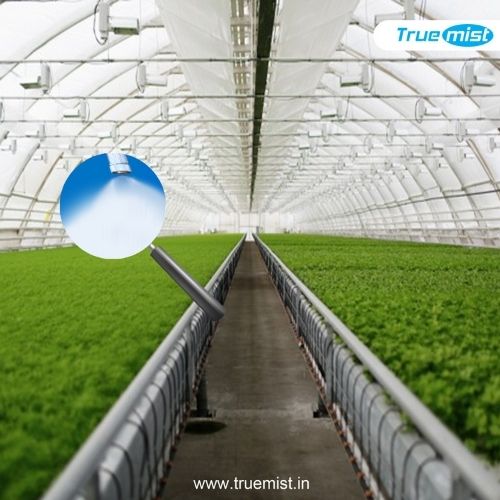 FOGGING SYSTEM MANUFACTURER & SUPPLIER
TrueMist Fogging Systems is a prominent manufacturer and supplier of Fogging Systems, catering to various industries in India and worldwide. Our extensive network of distributors in major Indian cities enables us to deliver and install fogging systems at any location.

Our Fogging Systems find extensive usage in numerous applications, such as Humidification Plants, Greenhouses, Mushroom Farms, Tea Plant Humidification, Dairy Farms, Sanitization Booths/Tunnels, and more. TrueMist Fogging Systems enable our clients in industrial and commercial sectors to significantly reduce energy costs while meeting indoor air quality (IAQ) requirements.

TrueMIST Fog cooling System employs high-pressure fogging pumps to supply pressurized and treated water between 1000 (70 bar) and 2000 psi (140 bar) pressure. Fog nozzles made of stainless steel, ceramic orifice, or both atomize the water into ultra-fine droplets of fog particles.

Moreover, TrueMIST foggers utilize Air Atomizing spray nozzles with varying flow patterns in industrial and commercial applications to generate dry fog. These spray nozzles use compressed air and mix with liquid, making them highly suitable for Dust Suppression Systems and Humidification Applications.

Dry Fogging systems are highly versatile and widely used in a wide range of industrial applications. TrueMist industrial fogging Systems is committed to providing reliable and efficient fogging solutions to its customers across the globe.
TrueMist, we prioritize precision and suitability when engineering our fogging systems for different applications. Our team of skilled engineers meticulously designs the water treatment fogging system and sizes it based on various factors, such as building heat loads, ambient climate data, ventilation rates, and more.

Unlike other technologies, such as compressed air, ultrasonic, or canister steam systems, TrueMIST fogging systems operate without the need for compressed air or heat. This eliminates the need for several moving parts, including air handlers or humidified spaces, resulting in reduced energy consumption, making our systems highly efficient.

Our Fogging Systems offer numerous advantages, including

1. Wide network of distribution throughout India
2. Innovative design
3. Quick installation
4. Automatic pressure relief
5. Customization to the specific application

At TrueMist, we are committed to providing reliable and efficient fogging solutions to our customers across the globe.
FAQ
What are the droplet sizes?
Droplets range anywhere from 30 microns to 50 microns

Does the misting cause wetness?
No the system does not cause wetness or dampness of any kind

Can the nozzles be removed and cleaned?
Yes
Can chemicals be mixed with the system?
Yes, as long as the nozzles do not clog. Certain Odour and dust suppression applications require mixing of chemicals.

Will it decrease the surrounding temperature?

Yes, it will. Up to 12 degrees Celsius.

the fogging system, high-pressure pump for the fogging system, fogging humidification system, fogging nozzle system, dry fogging system, fogging systems cooling, water fogging system, fogging system greenhouse, fogging Suppliers in Chennai India