ANIMAL & LIVESTOCK MIST COOLING SYSTEMS
We are the leading manufacturer and integrator of misting systems for livestock, pets, and other animals. Our high-pressure mist cooling systems help to regulate temperature, prevent fatigue and diseases, and promote healthy growth in animals. Our livestock foggers and mister cooling systems are specially designed for use in India, providing a comfortable environment for animals even in hot and humid weather conditions.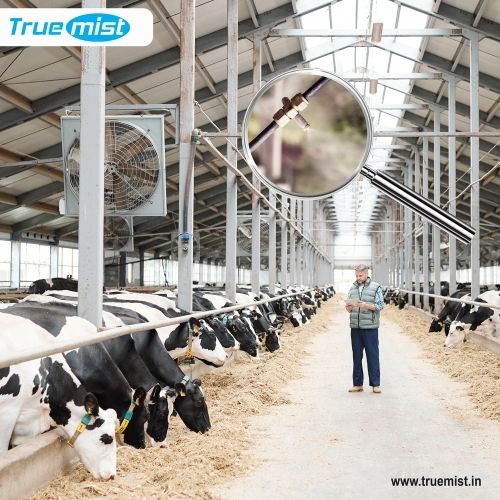 MIST COOLING SYSTEM FOR ANIMALS
Maintaining a comfortable climate is crucial for the health and well-being of animals on livestock farms, cattle farms, kennels, stables, and other animal facilities. Truemist Misting and Fogging System offer top-of-the-line mist and fogger cooling systems to achieve optimal cooling for various animals, such as cows, dogs, horses, rabbits, pigs, and poultry.

Our mist cooling systems for animals are efficient and effective climate control solutions that help farming operations reduce heat and increase profitability. The livestock misting system consumes less energy compared to conventional cooling systems, making it a more cost-effective option.

Our carefully designed misting and fogging systems effectively cool the environment without affecting the animals' health. The ultra-fine water droplets from the misting nozzle evaporate and mix with the air to cool the surface. The misting system creates a curtain of mist, which can reduce temperatures in the immediate area by up to 12 degrees Celsius. Outdoor temperature and humidity also play a significant role in temperature reduction.

Truemist offers to mist and fogging systems that are easy to install in sheds or barns. We also supply standalone fogger kits for animals, which customers can install themselves. With our mist and fogger cooling systems, you can maintain an appropriate climate that provides maximum comfort for your animals, ensuring their health and wellness. Plus, our systems offer an excellent educational opportunity, especially for children who can learn about animal care and farming practices.

How Low can the surroundings be cooled for animals?
With livestock misting systems, you can easily lower the surrounding area of your livestock up to 10 degrees, ensuring that they don't become the victim of heat stress.
How long does the cooling process take?
Bid farewell to extended periods of physically wetting down regions for animals by utilizing sirs. Basically introduce them close to your domesticated animals and let them run. The sirs will create fine quality fog in the encompassing through the spouts with the water being produced through the moistening siphon. What's more, since high tension sirs are without leftover, you don't need to stress over the wet floor which is awkward for the livestock.
Will the mist wet the animals?
No, the fog that is produced has an evaporative cooling technology that is produced due to high pressure, it cools the air around by combining with the heat in the atmosphere.
Does it get rid of Insects or Flies?
Flying Insects and crawlies regularly cause inconvenience to creatures. Nonetheless, the fog made from the sirs can likewise help with bringing down the uneasiness brought about by flying bugs to your domesticated animals. This is on the grounds that the fog wets the wings of the flying bugs which ward them off. Other than this, sirs likewise assist keep with tidying and dust under control.
Where else can I have these installed?
TrueMist.in isn't in the business to just lift our primary concern yet in addition, to construct long haul entrust based associations with our clients. This is apparent through our valuing. We endeavor to give our clients top notch fog cooling systems at reasonable costs.
Upto 6 Months warranty on the pump and motor. Others parts will be replaced immediately if not working or damaged on arrival.
What's the effect of mist cooling on livestock?
Heat stress relief for poultry.
The mortality of birds gets reduced.
Broilers grow well.
Layers produce more & higher quality eggs.
Improves milk production in cows.
Cattle increases milk production, weight gain, and breeding cycles.
Increases meat production
Advantages
Easy installation
Minimum maintenance
Low energy consumption
Drastically reduces Dust
Odor control
Optimum usage of water
Increased Airflow
Application
Poultry
Milk Dairy Farms
Stud Farms
Goat Farms
Rabbit Farms
Cow &Buffalo farms
Birds
Tags: Livestock, cattle and pet Misting system manufacturers and supplier in India with network of distributors in Chennai, Bangalore, Hyderabad, Pune, Mumbai, Delhi, Gurgaon, Cochin and Nagpur