MISTING SYSTEM FITTINGS AND ACCESSORIES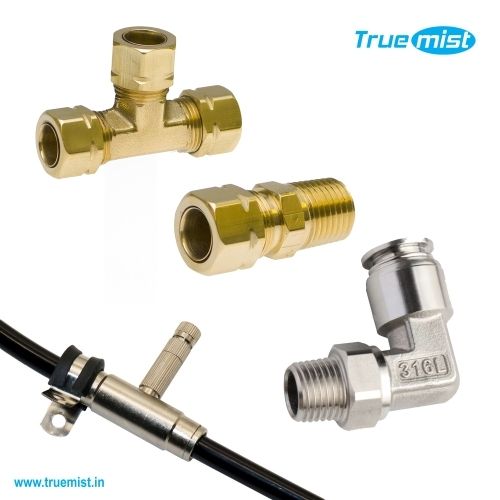 MISTING SYSTEM FITTINGS
Truemist misting system manufactures and supplies variety of misting system accessories and fittings that will solve any of your misting needs. We manfuacture both brass misting fittings and stainless steel misting fittings

The heavy duty brass and stainless nozzle fittings are used in our misting system setup. Both Single ferrule and dual ferrule fittings are designed to compress on hard tubing and hold without leaking even with 2000 psi pumps. It requires 2 wrenches to secure the ferrule to the tubing. Fittings are pressure tested to check for leaks.

Our brass fittings have an attached sleeve in the nut. These fittings work excellent for the copper and nylon tubing system.

The push lock style of brass and stainless steel nozzle fittings makes nylon misting jobs quick and easy. Use a PVC cutter or the mini tube cutter to make a clean straight cut in the nylon tubing and simply push the tubing into the fitting for a tight secure fit.

The copper sweat fittings are great for those who know how to solder. Using these misting system fittings instead of the compression fittings will make your copper misting kit streamline and clean looking.

Misting system from Truemist can be integrated with sensors, Timers, temperature and humidity controllers to run the system automatically without human intervention and can helps remote monitoring and management of the systems. We can also remote monitoring and conrol of the fogging lines using SCADA programming.