HIGH PRESSURE MISTING TUBE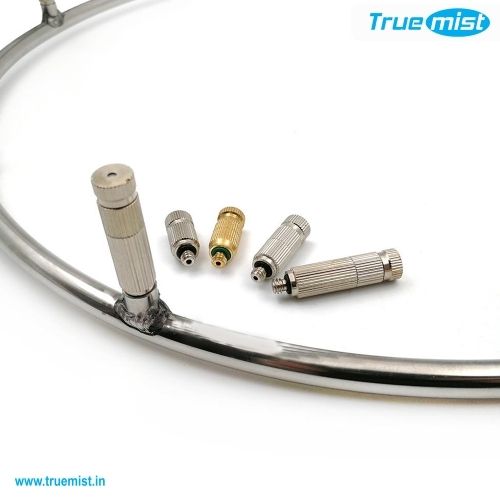 NYLON MIST TUBE AND SS TUBE MANUFACTURERS IN INDIA
Manufacturer, supplier and Exporters of High pressure misting tubes in India. Misting system tubing to support all of misting needs from outdoor cooling and fogging effects to humidification and dust control.

Our typical spacing is 1.5 meters for outdoor application and 2 meters for outdoor applcations and port thread size is 10/24 and 1/4 inch customized as per application.

Stainless Steel: Our stainless steel mister tubing is provided in 8′ lengths with nozzle spacing every 2′ on center (4 nozzle ports per 8′ section). We have 4 powder coated colors to match the color of your structure: Almond, Caramel, Cafe and Rust. We have recently added 20″ spacing for more mist coverage on your patio.

Copper: The copper mister tubing is 6′ in length with nozzle spacing every 2′ on center.

Nylon: The nylon is UV stabilized high pressure tubing designed for direct burial as a feed line or can be used for the mist line. It is always a good idea to sheild the nylon tubing when burying it under concrete.
High Pressure Nylon tube works for pressures up to 70 bar / 100 psi and with stand high temperatures up to 200°F (93°C). The material is ideal for misting applications, chemical and oil processing lines, tool lubricating systems, pneumatics and other applications that require high quality tubing with much higher burst ratings than typical nylon tube can provide.

High-Pressure Nylon 11 tubing is made from nylon 11 resin (polyamide 11) with a semi-rigid compound that provides outstanding tensile strength and chemical resistance, without sacrificing flexibility. Derived from castor beans, this unique material provides excellent abrasion, chemical, impact, moisture, and thermal resistance, as well as outstanding dimensional stability.